Watch UFC 115 Live Stream, Liddell vs Franklin (Live Online)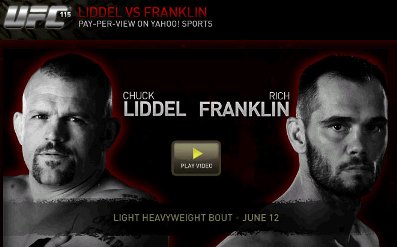 I never realized this before, and I'm sure someone is going to completely blow me up in the comments, but I found a page on Yahoo Sports that allows you to purchase pay per view UFC fights.
So Yahoo Sports has a UFC PPV (Pay Per View) page – and like I said, you can purchase UFC fights online and watch the fights live right from your computer.
UFC 115 – Liddell vs Franklin
I'm not 100% sure if the fight is over by now or not (it's 12:24 EST), but if you visit the UFC Yahoo PPV page you'll see where you could've purchase the Pay Per View package for the UFC 115 fight night.
Visit Yahoo's PPV UFC Fight Page Here
The price for the UFC 115 live stream from Yahoo is $44.95 which gets you the live fight viewing, plus 24 hours of archive viewing of the fights.
This is a pretty good deal if you are wanting to watch the UFC 115 – Liddell vs Franklin fight from your computer.
And I think that UFC, and Yahoo Sports, are both making a great decision in expanding the Pay Per View option to the web. When UFC fights are scheduled, the Internet lights up with interest and literally millions of people searching for the fight itself – especially the live stream.