iPhone 4 Pre Order Now, iPhone 4 Release Date June 24th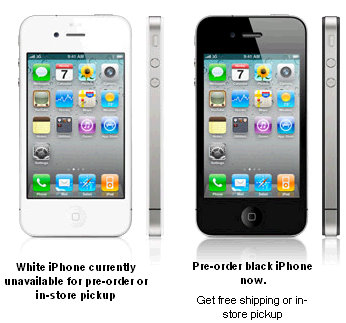 It's been a long night for some people as they've been waiting since 12am EST for the iPhone 4 pre order links to appear on the AT&T and Apple store websites. The iPhone 4 pre order links appeared on the AT&T website sooner than the Apple website by about 4 hours or so.
When iPhone 4 pre order hit AT&T's website, there were several comments coming into this site about people having trouble completing the their order. They were saying that their computer screens were stuck in processing mode – some even reported that they simply walked away from their computers and went to bed, only to wake up with their computer screens in the same "processing" status.
AT&T and Apple in Full iPhone 4 Pre Order swing
Both AT&T and Apple's website are now in full iPhone 4 pre order mode. You can pre order your iPhone 4 from the AT&T website and now from the Apple website.
iPhone 4 Release Date is June 24th
After talking with several AT&T reps about the logistics of getting your new iPhone 4, it seems like if you order your iPhone 4 through AT&T's website, then you will have to come into a local AT&T store to pick it up. However, if you order through the Apple website, then you can have the iPhone 4 delivered directly to your house, or chose in store pickup.
Does anyone else have more information about the exact logistics in how you will get your iPhone 4 on June 24th?
Hopefully we can get comments from people who have ordered from both AT&T and Apple by now.