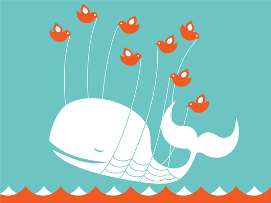 iPhone 4 Pre Order Crashes Twitter, AT&T Websites
With so much anticipation building up for today – June 15th, the day the iPhone 4 is officially available for pre order – everyone decided to stay until midnight to see if AT&T's website would have the link available to pre order.
Let me first tell you that it's now 12:44am EST and AT&T's website does not have the pre order links for the iPhone 4 available yet. Their press release stated that the information to pre order the iPhone 4 will be here >> http://www.att.com/wireless/iphone/.
The only exciting things that happened at midnight was that Twitter crashed right at midnight, and then for some users, AT&T crashed around 12:30am.
Now I can't say for sure if all users experienced Twitter's famous Fail Whale – the whale that appears when Twitter crashes due to spikes in traffic. But for me, Twitter was definitely down as I got the Fail Whale.
Then, on the AT&T Facebook Fan Page, people were reporting outages of the AT&T website around 12:30am.
All of this is more than likely due to the huge global demand to pre order the new iPhone 4. But as of right now, 12:48am, both the Apple website and AT&T's website do not have any links to pre order the iPhone 4.
So for me, I'm heading to bed and I'll check up on everything in the morning!
Until then, I hope the entire Internet doesn't crash for the rest of you…