Pre Order iPhone 4, AT&T Live – Apple Store Coming Soon (iPhone 4 Update)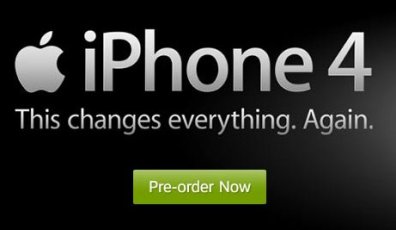 I know for a fact that some people having been watching the AT&T website since midnight for the iPhone 4 pre order links to appear. These people have just been sitting there hitting F5….. F5…. F5….  And the same if true of the Apple Store webpage. I know this because I was one of those people until around 1am EST. But when I still didn't see any links, I decided to hang it up and retire for the night.
It's now 7am EST and I see the iPhone 4 pre order links on AT&T's website, but the online Apple store is still under construction.
Visit AT&T's online store to pre order iPhone 4
Visit Apple's online store to see when iPhone 4 is ready
The "We'll be back soon" post-it sticker has been the standard for Apple when they are rebuilding the store for a product launch. This means that a new product will be presented at Apple's online store shortly.
And obviously, this new product that's coming is the new iPhone 4 pre order.
Aside from pre ordering the iPhone 4 from AT&T's website or from Apple's online store, you can also pre order the iPhone 4 from Best Buy, Radio Shack, and Wal Mart. All of which should be available to you today for pre ordering the iPhone 4.