Ron Artest Interview – Ron Artest Thanks His Psychiatrist (Video)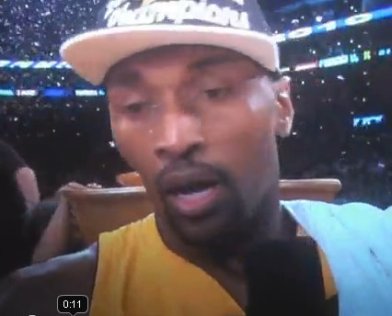 Last nights game 7 in the NBA Finals between the Los Angeles Lakers and the Boston Celtics was the end of an absolutely amazing, hard fought finals series. The game itself ended up being a very low scoring game, mainly due to the hard fighting on defense that both teams were putting  forward. So when the Lakers ultimately ended up winning to become the NBA champions, it goes without saying that emotions were running high in the Staples Center.
Ron Artest Interview
One of my favorite parts of the post game was when a sports broadcaster tried to interview Ron Artest on the court. She (the broadcaster) asked Ron Artest some question about the game, his performance, etc… but what she got back was a funny, humorous, and very entertaining response from Ron Artest.
Ron Artest basically blew off the question asked and just started thanking everyone he could think of for the championship victory.
The funniest, and most unexpected person who got a shout out….???
Ron Artest's psychiatrist.
Your psychiatrist?  Really?
And more specifically, Ron Artest thanked his psychiatrist for helping him to be able to relax more…
Here's the Ron Artest post game interview: