USA vs Slovenia FIFA 2010 World Cup, Was Slovenia Win Stolen from USA?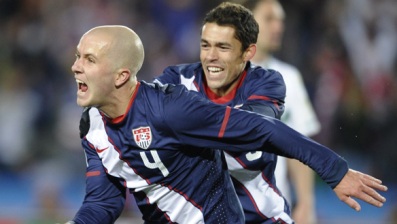 The USA soccer teamed played Slovenia today in a match that was exciting to watch, while simultaneously frustrating from the USA side. A score late in the soccer match by the United States was taken away from the USA soccer team because of a controversial call from the referee. This goal by the USA would have put them up 3-2 against Slovenia and given the US team a "Win" instead of a "Tie".
However, the call stood and USA soccer team ended the match against Slovenia in a 2-2 tie.
What's interesting still about the USA vs Slovenia game is that even with a tie being the result, I think that the US soccer team is still doing amazingly well. Nobody expected the USA soccer team to go very far in the 2010 World Cup. However, with 2 games now behind the US, the fact that they've tied both games (and haven't loss any) tells me that the US soccer team is doing far better than anyone expected.
Anything can happen in the FIFA World Cup and even though the USA soccer team is not expected to go very far, we could see things unfold very differently than expected.