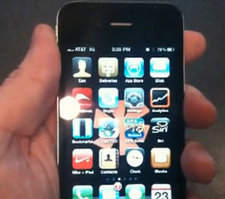 iPhone 4 Problems – Signal Strength Problems Emerge with iPhone 4
Wow – no sooner did the iPhone 4 get into the hands of users did videos start to emerge showing a major hardware problem with the new iPhone 4. From the video below, you can see that the problem is isolated to when a user holds the iPhone 4 and puts their fingers on the metal bands along the sides.
The complaints are not isolated to just a few early adopters of the new iPhone 4. A whole wave of videos have been rushing onto the web from new users, along with wide ranging complaints from users.
I'm sure you can see that Apple had better follow up with a fix to this issue – and fast. By the looks of the video below, simply by holding onto the iPhone 4, and your fingers touching the metal side bands, the signal strength drops to a point where it actually begins searching for a signal.
If you were on your iPhone 4 talking, and holding it with your left hand, then I'm sure it is obvious that you would drop you calls.
So if Apple doesn't come up with something fast, then their will be an army of very unhappy customers, and an equal number of negative content flooding the web about the new iPhone 4 problems.
Here's the iPhone 4 problem video: