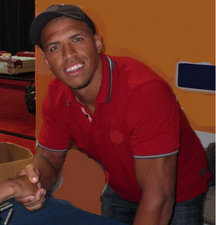 Miles Austin Update – Miles Austin Signs $3.2 Mil Dallas Cowboys Contract
Wow – this one was a close call for Miles Austin. With only four days remaining before the Dallas Cowboys started cutting their contract offers by 110% of last year's salary (yeah, that's a lot of money for some players), Miles Austin went ahead and signed his contract tender with the Dallas Cowboys, according to the Dallas Morning News.
Austin Miles is one of Dallas Cowboys' Pro Bowl wide receivers, and his contract that he just signed guarantees Miles an estimated $3.2 million to play in Dallas this season.
The Cowboys could still work out a long-term contract with Austin. Team owner Jerry Jones said earlier in the off season that such a deal was a priority, according to the USA Today.
Miles Austin & Kim Kardashian
In other Austin Miles news, apparently Kim Kardashian has caught the eye of the 25 year old Dallas Cowboys' receiver.
According to the NYDailyNews.com, more than two months since ending her three-year relationship with New Orleans Saints running back Reggie Bush, the sexy reality star has reportedly found love with another NFL hunk: Dallas Cowboys wide receiver Miles Austin.
"They met at a restaurant in L.A. a few months ago and exchanged numbers and have been talking ever since," a friend of the couple told People.com. "They've had a few dates and it's going really well."