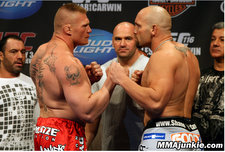 UFC 116 Weigh In – Brock Lesnar vs Shane Carwin Featured Fight
The weigh in for UFC 116 took place today at the MGM Grand Garden Arena in Las Vegas. And the featured fight on the UFC 116 ticket was also the featured weigh in today.
Over three thousands MMA fans crowded the arena to cheer on their favorite fighters as they weighed in. And no one was more excited than when Shane Carwin and Brock Lesnar took to the scale.
The UFC 116 fight will take place at the MGM Grand Garden Arena in Las Vegas, and can be viewed Saturday night on pay per view and Spike TV broadcasts events.
When Shane Carwin, the interim heavyweight champion, took to the scale the crowd rose to their feet and cheered. However, when it was Brock Lesnar's turn, the arena instantly filled with boos.
I think it's clear who the fan's favorite fighter is.
Both Shane Carwin and Brock Lesnar weighed in a hefty 265 pounds for their fight.
When the two heavyweights squared up for the stare down media shot, luckily there wasn't any scuffles or drama.
All went well and both fighters seem to be ready to take their aggression out on each other in the octagon.