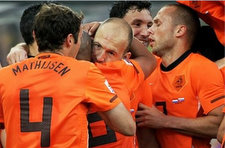 Brazil vs Netherlands 2010 – Netherlands Upsets Brazil 2-1
In one of the biggest upsets so far this year in the 2010 FIFA World Cup, Brazil went down in flames today by being eliminated by the Netherlands 2-1 on Friday.
Brazil took and early lead and all looked as expected coming out of the first half. But then in the second half, the Netherlands scored twice in shocking goals that shook the World Cup.
The Netherlands has not beaten Brazil in the world cup since all the back in 1974 – so needless to say, this upset sent shock waves throughout the soccer world.
From the Wall Street Journal,
Thousands of Brazilian fans are streaming away from a huge TV screen in downtown Sao Paulo. A carpet of yellow and green streamers litters the ground. They are in shock.
"Maybe we didn't play typical, creative Brazilian football," says office worker Felipe Soares.
"Better luck in 2014," says government worker Rita Rocchiccioli. That's the year the World Cup will be played in Brazil.
"The game was a big comedown from Brazil versus Chile," says computer technician Wlamir Cruz. "Brazil's second half play today was terrible."
Soon, street sweepers will clear the streets of tin cans, food scraps and litter and Latin America's biggest city will get back to business as usual.
Will The Netherlands Finally Win A World Cup
There is really only one problem with the fact that the Netherlands beat Brazil, and that is winning the 2010 World Cup.
It's great that the Netherlands won, but now they need to step up to the plate and continue on with their success to bring home what matter most – a Wold Cup victory.
Otherwise, what does this victory really mean?