Watch Argentina vs Germany Live, Then Paraguay vs Spain
The 2010 World Cup is starting to get more interesting as each day passes. With finals now on the line, the competition is growing more intense with higher level of soccer being played.
Today on ABC and ESPN Radio at 9:30am EST, you can watch Argentina vs. Germany soccer match, then at 2pm EST you can watch Paraguay vs Spain.
According to the NYTimes: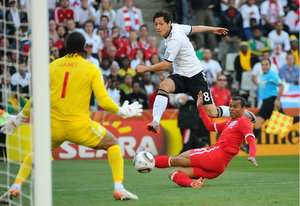 Argentina won in 1986 in Mexico City with Maradona at the height of his powers, but the Germans spoiled the double in 1990 in a deeply negative match in Rome when too much of Maradona's magic was already gone.
Despite his wizardry with the ball at his feet (and in one famous occasion against England, his hand), Maradona never scored in any match against West Germany. But the team he now coaches is brimming with attacking talent, led by the creative force Lionel Messi and striker Gonzalo Higuain, and neither Maradona nor Löw said they expected anything but more assaults on the goal Saturday.
"We are well aware that we have to keep playing our football," Maradona said. "We know that our opponent tomorrow from a historical point of view has always played good matches against Argentina. But if we keep possession of the ball, they'll have to run very hard for a long time without even touching it."