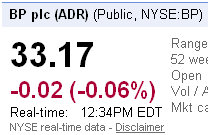 NYSE:BP – BP Oil Spill Update, Seal Cap in Place by July 27th?
CNN has been reporting throughout this morning that BP (NYSE:BP) is expected to have the seal cap in place possibly by July 27th – nearly a month ahead of schedule.
Ironically, July 27th is also the day that BP is expected to report their quarterly earnings.
BP shares are down slightly at -0.03 (-0.09%) trading at 33.16.
We are now in the 80th day of the oil spil, and since the BP oil rigged exploded killing 11 BP workers on the rig and launching the biggest natural disaster in US history.
It is being reported that now all gulf states are directly affected by the gushing oil pipe in the Gulf of Mexico.