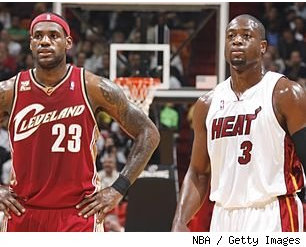 There are new rumors hitting the web that are stating that multiple sources are confirming that LeBron James will in fact be heading to Miami.  Fanhouse.com writer is reporting that these rumors are building, and that multiple sources are also confirming LeBron James is heading to Miami.
If LeBron James did go to Miami, then he would be joining forces with Dwayne Wade and Chris Bosh. This would be the most concentrated force of NBA super stars that the NBA has seen in quite sometime.
We will find out tonight for sure during the 1 hour ESPN session that is being called "The Decision" – starts at 9pm EST tonight on ESPN.