NYSE:BP – BP's 5 Day Stock Price up Nearly 30%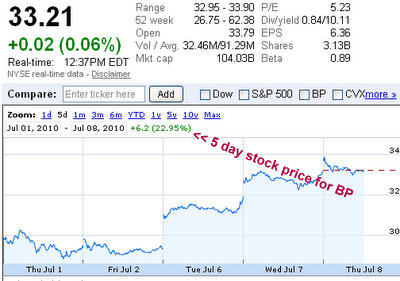 Since Thursday of last week (July 1st, 2010), BP's stock price is up nearly 30% on the NYSE. What are some of the factors that have driven up BP's stock price over the past 5 trading days? It's hard to tell exactly, but here are some thoughts on why BP's stock price is up nearly 30% since last Thursday:
BP CEO Tony Hayward seeks new capital investment in BP
Oil spill seal cap is expected to be in place ahead of schedule
Relief oil wells are going as planned
So with the outlook being as favorable as it can for BP, apparently share holders are somewhat encouraged and thus driving up the prices on BP stocks.