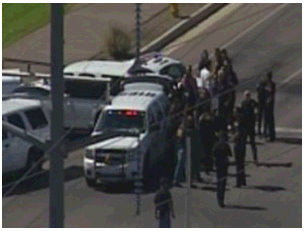 In what is believed to be a shooting motivated by domestic violence, the campus of Albuquerque's Emcore Corporation was riddled with terror and gunshots today.
The gunman, who was a former employee of Emcore – a fiber optics manufacturer –  entered the Emcore Corp facility and starting firing, seemingly at random.
According to HuffPost, the shooting at Emcore Corp. appeared to involve the 37-year-old gunman's girlfriend, police Chief Ray Schultz said. It was not immediately clear whether she was among the dead.
Chaos unfolded as the gunman opened fire, sending employees fleeing for cover as police locked down the entire neighborhood. Police were alerted to the shooting shortly before 9:30 a.m. Five officers were inside the building within three minutes, Schultz said.
The shooting at Emcore took place at 9:29am this morning and left 4 dead, 8 injured according to the Albuquerque police department.