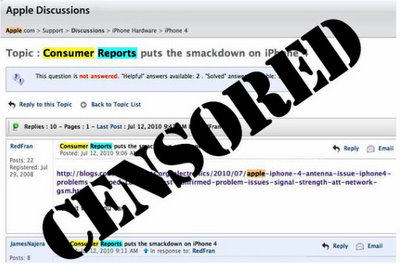 In an effort to stifle negative content from gushing onto the web about Consumer Reports iPhone 4 review, Apple has decided it will just go ahead and delete the discussions altogether.
The Consumer Reports review of the iPhone 4 ended with a simple message that has rippled through the internet like an nuclear bomb. The message is this – we do not recommend purchasing the iPhone 4.
Wow – and there it is…
What's amazing to me is that Consumer Reports has that much power – enough influence to put Apple into defensive mode. Apple is deleting discussions about Consumer Reports review of the iPhone 4 on their main Apple Discussions forum.
Even though Consumer Reports does not recommend buying the iPhone 4, they still rate the iPhone 4 76 out of 100, placing it above the HTC EVO 4G and two points ahead of the iPhone 3GS.
[Read]