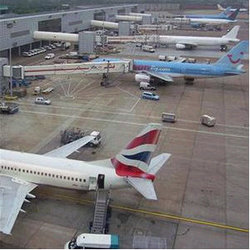 The Milwaukee metro area has been getting hammered with rain. More than 6 inches of rain fell in Milwaukee on Thursday causing widespread flooding.
The Milwaukee General Mitchell International Airport closed to flights until 12 noon CST today. The airport's runways were completely under water, according to reports.
According to the USA Today, the airport tied the closure to "flooding on the airfield and roadways leading to the airport," according to Reuters.
The airport advised "travelers should contact their airlines before heading to the airport to determine the status of their flights and make alternative arrangements if needed."
AirTran, one of the top carriers in Milwaukee, issued a flexible travel policy this morning for customers affected by floods and disrupted flight schedules.
The Associated Press says the airport first "closed around 9:30 p.m. [CT] when floodwaters began covering parts of the runways, airport spokeswoman Pat Rowe said. At one point, flooding also blocked outdoor ticketing and baggage claim areas."
Additionally, AP says "air traffic controllers were evacuated from their tower because of a tornado warning earlier in the evening. They were allowed back about an hour later, and a few planes were allowed to land and take off before flooding forced officials to close the airport, [Rowe] said. The airport remained closed Friday morning."