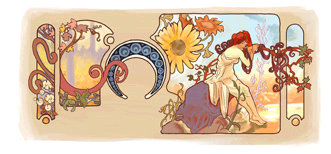 Google is celebrating the 150th birthday of Alphonse Mucha today with a custom Google Logo (or Google Doodle). The Alphonse Mucha Google logo is a depiction of what of his more famous works of art – however, I have not been able to figure out exactly what piece that is that's depicted in the Google logo.
The style of Alphonse Mucha is evident, even in the Google logo. Mucha desired to depict women, their styles and images, with decorative art. Many of his paintings were used or reproduced for the purpose of paintings, illustrations, advertisements, and designs.
According to Wikipedia, Alphonse Mucha's paintings have moments of revivals, but also moments where there is hardly any expanding interest.
So far, the Google logo I see is the same one that's been there since around midnight. Sometimes, Google will set up a series of images that flip through as each new pageload occurs.
Here's an image of a Alphonse Mucha logo: