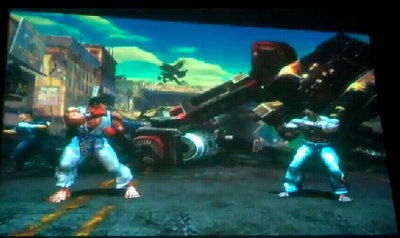 If you're a gamer, then you better hold onto your console because this is about to get ridiculous with the video below.
At Comic Con 2010, Street Fighter X Tekken (pronounced Street Fighter Cross Tekken) was announced by Street Fighter producer Yoshinori Ono rom Capcom.
Street Fighter X Tekken will be available for both the PlayStation 3 and Xbox 360 platforms. This new game is a 2D title that will pit Ryu, Chun Li and others against Kazyua Mishima, Nina Williams and other fighters from the King of Iron Fist Tournament.
According to Pushsquare.com, although Street Fighter X Tekken was the focus of the presentation – it wasn't the only game announced. Harada revealed that Tekken X Street Fighter is also in development at Namco HQ. While Street Fighter X Tekken will play out on a 2D-plane via the SFIV engine, Tekken X Street Fighter is rumoured to take advantage of the three-dimensional Tekken engine.
So if you're as excited as the people at Comic Con were to see Street Fighter X Tekken revealed, then I know you'll be anxious to hear about a release date. Unfortunately, no release date have been given at this time.