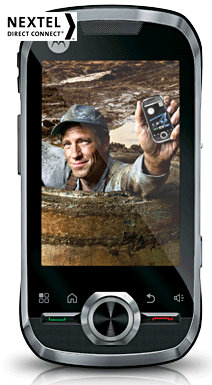 Sprint has just released the Motorola i1 iDEN phone which is the very first Android powered Nextel phone with Nextel's Direct Connect (aka push-to-talk) technology.
The Android powered Motorola i1 is available online right now, and also through business sales and telesales – the mobile phone will be available in Sprint stores on August 8th, 2010.
You can get the Motorola i1 Android phone at Sprint for $149.99 after two-year contract and $50 rebate.
There is no doubt that Sprint is forging ahead in the mobile phone market place. Sprint was the first mobile phone carrier to bring 4G data connections and 4G enabled mobile phones.
Features of the Motorola i1 Android phone:
Highlights
Nextel Direct Connect® means you can just push-to-talk, instantly connecting you to other Nextel users–across town and across the nation
The slender touchscreen with virtual keyboard lets you quickly navigate to just the tool or app you need.
Key Features
Touchscreen
Nextel Direct Connect®
Group Connect
Music capable
GPS Navigation enabled
Web browsing capable
Email capable
Camera
Rugged
Bluetooth® Wireless
Memory card slot
Voice activated dialing
Second Line Service
Here is a hands on demo of the Motorola i1 Android phone via AndroidCentral: