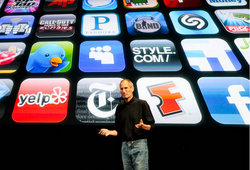 The iPhone 4 is about to expand, dramatically that is!
17 more countries are going to get the iPhone 4 this coming Friday, and will include Australia, Austria, Belgium, Canada, Denmark, Finland, Hong Kong, Ireland, Italy, Luxembourg, Netherlands, Norway, New Zealand, Singapore, Spain, Sweden and Switzerland.
This adds to the already global exposure from the countries of France, Germany, Japan, the UK and of course the United States.
Apparently Apple has resolved some of the iPhone 4 supply issues they were experiencing initially.
But that should only be for black iPhone 4s.
The white iPhone 4 will more than likely not hit the market until the end of 2010.
[read MobileCrunch]