Twitter has just reached a new milestone.
The 20 billionth tweet was sent out at 12:44 a.m. Sunday (1544 GMT, 11:44 p.m. EDT Saturday) from Tokyo, Japan.
Here's what the 20 billionth tweet consisted of:
"Piro passionate"
Here's a screenshot of the tweet from the user @GGGGGGo_Lets_Go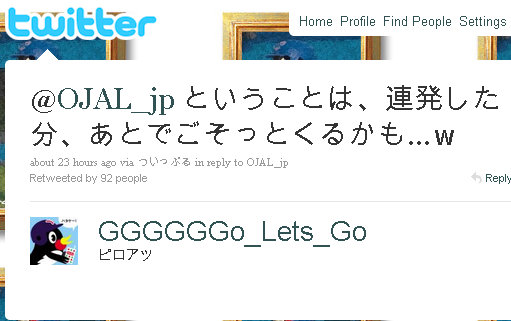 The person who posted the 2o billionth tweets is a graphic designer in Tokyo and when he posted his tweet, he probably had no idea what sort of attention he would be getting.
ComputerWorld was able to get a response from the guy who posted this historic message:
"It looks like I posted the 20 billionth tweet. I'm getting replies from people all over the world. It's scary. What are the chances? Maybe I'm going to die. Is it more amazing than winning the lottery? I thought it was a joke," he wrote, as reported and translated by Computerworld.
Records are being broke left and right in the social media space.
Today we have Twitter's 20 billionth tweet, and Facebook hit 500 million users.