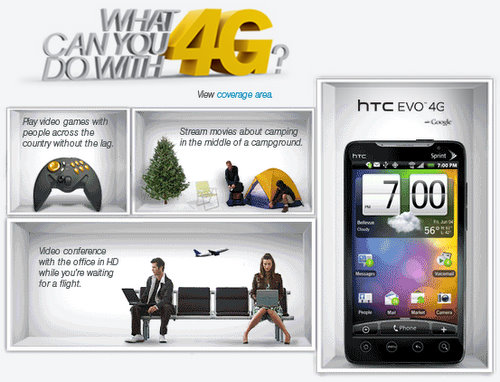 Sprint continues to expand their 4G coverage network.
However, I'm still dismayed as to why they don't put NYC in a 4G cloud!?
Anyway, I digress…
A couple of hours ago, Sprint announced the expansion of their 4G data coverage to 5 more cities – and they are:
Jacksonville, Florida
Modesto, California
Grand Rapids, Michigan
Stockton, California
Wilmington, Delaware
This brings the total number of cities that are covered by Sprint's 4G network to something like 58.
You can see a list of the current Sprint 4G coverage areas, but that does not include these new listings.
Another thing I'm totally perplexed over is why Sprint doesn't provide a nice, clean, simple spreadsheet that tracks their 4G coverage expansion.
You know what, I think I'm going to put one together myself.
Stay tuned as I knock out my own Sprint 4G coverage spreadsheet. And then it will be an easy, one stop shop to track the current and expanding cities that Sprint 4G is covering.