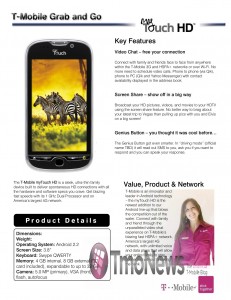 For those of you that are on T-Mobile's network and are a fan of the original Mytouch 3G will have a good replacement coming.
According to a leaked internal document from an anonymous source at Tmonews.com. T-Mobile will be releasing the Mytouch HD, which will be T-Mobile's second phone to take advantage of T-Mobile HSPA+ network. The Mytouch HD is expected to have a 1Ghz dual processor and running Android 2.2. Although it doesn't show whether or not it will have an HTC Sense user interface on top of Android 2.2. The handset will also have a 3.8-inch display, 5.0 MP camera and a VGA front face camera, 4GB of internal memory, 8Gb of pre-installed memory, which will be expandable to 32 GB via microSD.
The MytouchHD will feature video chat that will allow user's to make video calls to other phone using the Qik application. Users will also be able to phone to PC video calls with Yahoo Messenger & Qik. The video chat feature can be used over T-Mobile's 3G & HSPA+ network as well as over Wi-Fi.
The new handset seems to be very impressive. Between this phone and the T-Mobile G2 it will be really difficult to decide which phone to buy this holiday season. If any more information becomes available about the Mytouch HD I will let all of you know.
Follow me on Twitter
Follow me on Facebook.