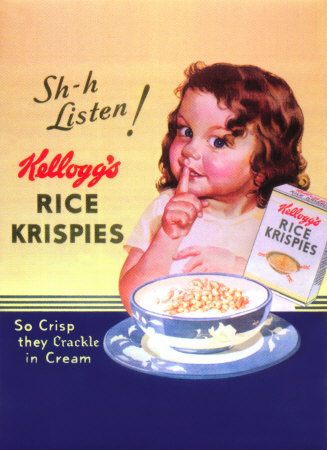 Ok – so this is a bit out of the ordinary for me and this blog, but I couldn't help myself… I'm sure that you're like me and you probably grew up eating Rice Krispies for breakfast – actually I'll eat them at night occasionally too. But also if you're like me, then you have kids who love Rick Krispies as well. In fact, Rice Krispies are typically the #1 choice for breakfast for my kids in the morning – with stiff competition coming from french toast sticks.
With all of that said, today I had a unique opportunity to visit the Rice Krispies Facebook Fan Page and saw that there was only around 1200 fans.
This pulled on my inner child heart strings and I was… well… saddened to be quite frank, because I know for a fact that generations of people grew up loving Rice Krispies, and new generations are now following in our shoes.
So I got this spirit of "Let's Support Rice Krispies on Facebook" thing going now in my head and I can't shake it.
The only cure?
All I could do to clear my conscious was to write up an article from my blog, and then broadcast it out through all of my networks I have access to help lift the awareness, and more so the brand of Rice Krispies, because I know deep down inside, you more than likely are a fan!
So visit the Rice Krispies Facebook Fan Page here > click "Like" to become a fan > and show your support for this timeless, classic American cereal that we all love…
What do ya' say?
Rice Krispies on Facebook