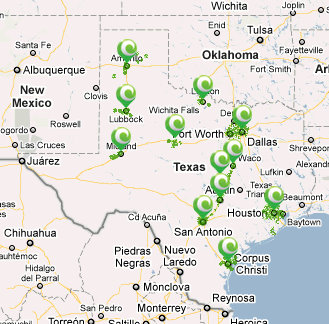 One of the hottest topics in the mobile internet and smartphone data arena is Sprint's 4G coverage areas. Say what you will about Sprint, but they have up to this point been the leader in providing 4G coverage in cities throughout the United States.
I was just checking out the Sprint / Clear 4G coverage map and noticed that Texas currently has more 4G coverage metro areas than other state in the US. Texas has 12 cities that are currently covered under Sprint's 4G cloud. The next closest is Washington state which has 9 cities with Sprint's 4G coverage cloud.
Here's the 12 cities in Texas that have Sprint 4G coverage:
Corpus Christi, Texas
San Antonio, Texas
Houston, Texas
Austin, Texas
Killeen, Texas
Waco, Texas
Midland/Odessa, Texas
Abilene, Texas
Dallas/Fort Worth, Texas
Lubbock, Texas
Witchita Falls, Texas
Amarillo, Texas
The Sprint / Clear 4G map does not show any cities scheduled to receive 4G coverage in the coming year (2011).
And here's the 9 cities in Washington state that are showing Sprint / Clear 4G coverage:
Bellingham, Washington
Everett, Washington
Kitsap, Washington
Seattle, Washington
Tacoma, Washington
Yakima, Washington
Richland, Washington
Tri-Cities, Washington
Pasco, Washington
What cities are wanting to see Sprint / Clear 4G coverage in?
via Clear.com