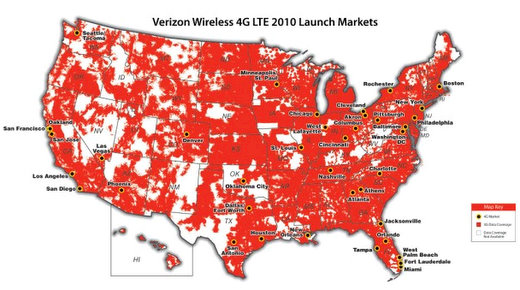 (click map for full version view)
Earlier this month, on October 6th, 2010, Verizon announced their 4G LTE (4G Long Term Evolution) expansion plans. The announcement was made by Lowell McAdam, president and chief operating officer of Verizon, and it detailed how Verizon Wireless will launch in 38 major metropolitan areas, covering more than 110 million Americans, by the end of the 2010.
That's a pretty aggressive expansion plan for Verizon's 4G network and literally overnight, Sprint's 4G coverage is up against serious competition.
In addition, the company is launching its 4G LTE in more than 60 commercial airports coast to coast – both the airports within the launch areas plus airports in other key cities.
** Only July 22nd, Verizon announced 37 more US cities and 11 more US airports – you can see these new 4G enabled locations at the bottom
Initial Verizon 4G LTE network launch (2010):
Large sections of the Northeast Corridor, including Boston, New York, Philadelphia, Baltimore, and Washington, D.C. as well as Rochester, New York
Throughout Miami and south Florida, Atlanta, Dallas-Fort Worth, Houston, and New Orleans as well as Charlotte, North Carolina and Nashville, Tennessee
Chicagoland, St. Louis, the Twin Cities, Pittsburgh and major cities in Ohio
Major population centers in California as well as Seattle, Phoenix, Denver and Las Vegas
Verizon 4G LTE network launch by 2013:
Verizon Wireless 4G LTE Initial Major Metropolitan Area Deployment
Akron, Ohio
Athens, Georgia
Atlanta, Georgia
Baltimore, Maryland
Boston, Massachusetts
Charlotte, North Carolina
Chicago, Illinois
Cincinnati, Ohio
Cleveland, Ohio
Columbus, Ohio
Dallas-Fort Worth Metroplex, Dallas, Texas
Denver, Colorado
Fort Lauderdale, Florida
Houston, Texas
Jacksonville, Florida
Las Vegas, Nevada
Los Angeles, California
Miami, Florida
Minneapolis/Saint Paul, Minnesota
Nashville, Tennessee
New Orleans, Louisiana
New York, New York
Oakland, California
Oklahoma City, Oklahoma
Orlando, Florida
Philadelphia, Pennsylvania
Phoenix, Arizona
Pittsburgh, Pennsylvania
Rochester, New York
San Antonio, Texas
San Diego, California
San Francisco, California
San Jose, California
Seattle/Tacoma, Washington
St. Louis, Missouri
Tampa, Florida
Washington, D.C.
West Lafayette, Indiana
West Palm Beach, Florida
And here are the Verizon Wireless 4G LTE Initial Commercial Airport Deployment (Airport Name, City, State)
Austin-Bergstrom International, Austin, Texas
Baltimore/Washington International Thurgood Marshal, Glen Burnie, Maryland
Bob Hope, Burbank, California
Boeing Field/King County International, Seattle, Washington
Charlotte/Douglas International, Charlotte, North Carolina
Chicago Midway International, Chicago, Illinois
Chicago O'Hare International, Chicago, Illinois
Cincinnati/Northern Kentucky International, Covington, Kentucky
Cleveland-Hopkins International, Cleveland, Ohio
Dallas Love Field, Dallas, Texas
Dallas/Fort Worth International, Fort Worth, Texas
Denver International, Denver, Colorado
Fort Lauderdale/Hollywood International, Fort Lauderdale, Florida
George Bush Intercontinental/Houston, Houston, Texas
Greater Rochester International, Rochester, New York
Hartsfield-Jackson Atlanta International, Atlanta, Georgia
Honolulu International, Honolulu, Hawaii
Jacksonville International, Jacksonville, Florida
John F. Kennedy International, New York, New York
John Wayne Airport-Orange County, Santa Ana, California
Kansas City International, Kansas City, Missouri
La Guardia, New York, New York
Lambert-St. Louis International, St. Louis, Missouri
Laurence G. Hanscom Field, Bedford, Massachusetts
Long Beach/Daugherty Field, Long Beach, California
Los Angeles International, Los Angeles, California
Louis Armstrong New Orleans International, Metairie, Louisiana
McCarran International, Las Vegas, Nevada
Memphis International, Memphis, Tennessee
Metropolitan Oakland International, Oakland, California
Miami International, Miami, Florida
Minneapolis-St. Paul International/Wold-Chamberlain, Minneapolis, Minnesota
Nashville International, Nashville, Tennessee
New Castle, Wilmington, North Carolina
Newark Liberty International, Newark, New Jersey
Norman Y. Mineta San Jose International, San Jose, California
North Las Vegas, Las Vegas, Nevada
Orlando International, Orlando, Florida
Orlando Sanford International, Sanford, Florida
Palm Beach International, West Palm Beach, Florida
Philadelphia International, Philadelphia, Pennsylvania
Phoenix Sky Harbor International, Phoenix, Arizona
Phoenix-Mesa Gateway, Mesa, Arizona
Pittsburgh International, Pittsburgh, Pennsylvania
Port Columbus International, Columbus, Ohio
Portland International, Portland, Oregon
Rickenbacker International, Columbus, Ohio
Ronald Reagan Washington National, Arlington, Virginia
Sacramento International, Sacramento, California
Salt Lake City International, Salt Lake City, Utah
San Antonio International, San Antonio, Texas
San Diego International, San Diego, California
San Francisco International, San Francisco, California
Seattle-Tacoma International, Seattle, Washington
St. Augustine, Saint Augustine, Florida
St. Petersburg-Clearwater International, Clearwater, Florida
Tampa International, Tampa, Florida
Teterboro, Teterboro, New Jersey
Trenton Mercer, Trenton, New Jersey
Washington Dulles International, Dulles International Airport, Washington, D.C.
Will Rogers World, Oklahoma City, Oklahoma
William P. Hobby, Houston, Texas
New Verizon 4G LTE enabled cities and airports that were announced on July 22nd, 2011:
New Verizon 4G LTE cities:
 Decatur, AL
 Huntsville, AL
Phoenix, AZ *
Los Angeles, CA *
San Diego, CA *
Colorado Springs, CO
Bradenton, FL
Lakeland, FL
Sarasota, FL
Augusta, GA
Hilo, HI
Honolulu, HI
Kahului, Lahaina, Wailuku & Kihei, HI
Carbondale, IL
Wichita, KS
Louisville, KY
Baton Rouge, LA
Springfield, MA
Northern New Jersey, NJ *
Las Vegas, NV *
Durham, NC
Greensboro, NC
High Point, NC
Winston-Salem, NC
Toledo, OH
Tulsa, OK
Scranton-Wilkes-Barre, PA
Charleston, SC
Chattanooga, TN
Knoxville, TN
Dallas, TX *
Ft. Worth, TX *
San Antonio, TX *
Olympia, WA
Seattle, WA *
Tacoma, WA *
Charleston, WV
* BOLD = EXPANDING COVERAGE IN EXISTING MARKET
New Verizon 4G LTE Airports:
Charleston, WV – (CRW) Yeager
Toledo, OH – (TOL) Toledo Express
Milwaukee, WI – (MKE) General Mitchell International
Rochester, NY – (ROC) Greater Rochester International
Wichita, KS – (ICT) Wichita Mid-Continent
Greensboro, NC – (GSO) Piedmont Triad International
Greer, SC – (GSP) Greenville-Spartanburg International
Sarasota/Bradenton, FL – (SRQ) Sarasota/Bradenton International
Colorado Springs, CO – (COS) City of Colorado Springs Municipal
Hilo, HI – (ITO) Hilo International
Kahului, HI – (OGG) Kahului
via Verizon