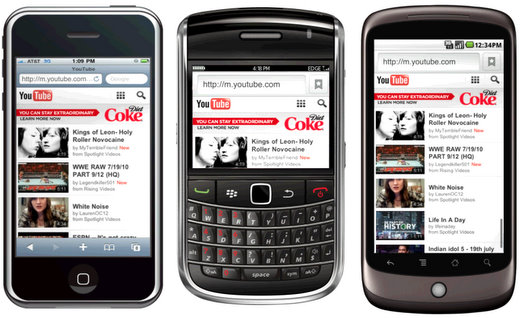 As if I need to say that mobile phone usage is growing at an unprecedented rate, right? You probably already figured that. But the people who are watching YouTube videos on their mobile phones is exploding in growth and popularity. Google just released some figures that may surprise you regarding YouTube video views via mobile phones:
YouTube Mobile is the #1 video viewing mobile website in the US
more than 7.1 million monthly unique visitors to YouTube mobile
75% say that mobile is their primary way of accessing YouTube
70% visit YouTube Mobile at least once a day
58% spend more than 20 minutes per visit to YouTube Mobile
38% feel that YouTube Mobile is replacing their desktop YouTube usage
That's impressive – and these numbers are primed to continue to grow at phenomenal rates.
What would be cool though is if you could check in to places via YouTube mobile. Sort of like making YouTube more of a locally oriented platform – or at least an option to make it that via your YouTube app.
Thoughts?