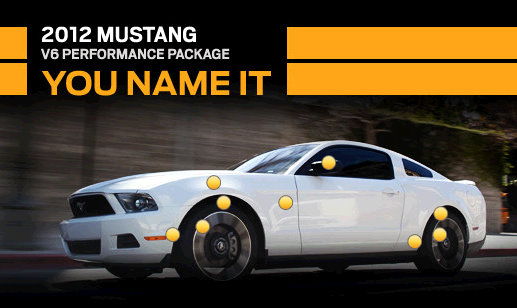 The win a 2 year lease on a brand new 2012 Ford Mustang contest kicked off just a few hours ago.  Ford is going to give away the 2 year lease to the one lucky Facebook Fan that recommends a name fot he 2012 Mustang V6 Performance Package – and oh yeah, the community has to vote that your submission is the best name.
All you have to do is:
1) Be a fan on Ford's Facebook Fan Page
2) Give your suggestion for what to name to the new 2012 Ford Mustang Performance Package.
If your name is picked for the V6 Performance Package, then you win!
"We're utilizing the power of social media to not only talk about what a fantastic package this is, but to also let Mustang fans across the country share a piece of it," said Brian McClary, Ford social and emerging media specialist. "It's a nontraditional approach to naming a piece of brand that millions of people identify with."