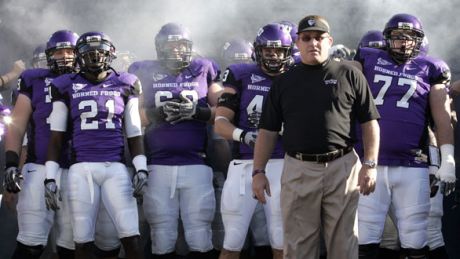 The top 5 BCS rankings doesn't seem to look like it used to in the year's past. The SEC used to dominant the top tier in the rankings.  But nowadays, weird names like the Oregon Ducks, and the TCU Horned Frogs dominant the elite college football rankings.
Today, we learned why the TCU Horned Frogs deserved to be ranked #3 in the BCS by defeating the #4 ranked Wisconsin Badgers in the Rose Bowl 21-19.
And even though the TCU Horned Frogs are able to win the BCS national title, they at least earned the coveted right to hold up the Rose Bowl trophy along with a 13-0 season.
According to MSNBC, TCU is the first school from a non-automatic qualifying conference to play in the Rose Bowl since the advent of the BCS, and the Frogs were right at home.
"All the critics don't feel like the non-AQ teams should have a shot," said Carder, the defensive MVP. "But I feel that TCU has proven that we can play with the best of them. Definitely taking this win back to Fort Worth … I feel like we came in here and made a statement today."