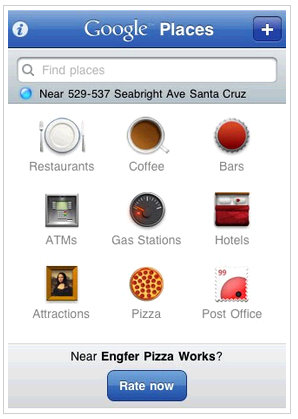 Google announced today that the Google Places iPhone app is now available for download via iTunes.
Google is apparently left to do only one thing after being shunned by Groupon and local business review site Yelp.com, and that is make their own app.
After Google's $6 billion offer to Groupon got shot down, the search engine giant has been trying to find a way to get a leverage in the local business market space.
Groupon would've been a perfect avenue for Google's local ambitions, but $6 billion wasn't enough to make that happen.
Here's what Google had to say today about the Google Places iPhone app:
We recently released Google Places with Hotpot in Google Maps for Android, and starting now, you can have that same great experience as an iPhone app. We realize the importance of finding places you'll love while you're out and about, no matter what mobile device you use. And Places with Hotpot not only helps you find places near where you are, it gives you the best places to go for you by personalizing your search results.
via Google