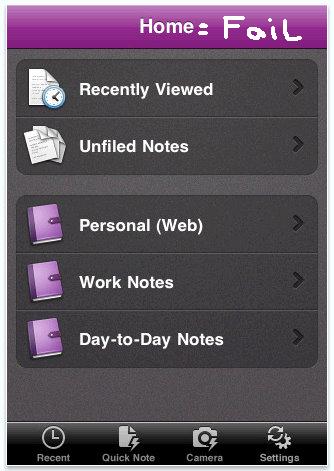 Microsoft finally decided to take some of the billions of dollars in their coffers and pay a developer to build them an iPhone app.
That's exactly what they did, and so they just launched the One Note iPhone app.
OneNote allows users to create and view notes and lists whenever you need them. Sync your notes with free Windows Live online storage and access them from virtually anywhere using your phone, PC, or almost any web browser (from iTunes).
Kudos to Microsoft for getting caught up with the times and releasing something for the iPhone.
Bad kudos on the reviews of this app.
The OneNote iPhone App currently has a rating of 2 out of 5 stars – not good.
What problems are being reported?
Let's see:
Can't Login:  When I try to log in I get the message "Login Failed, error: 400"
Error 400 problem:  A lot of people can't log in including myself. I have verified my account but this still doesn't help. Microsoft is a big company so just trying to get help is near impossible. Any smaller App developer has much betters lines of communication. Can't rate this beyond 1 * until it's fixed!
Failure to launch (v1.0):  Dismal fail… For a BIG software company to release an App with an error is just blind… Error 400
Can't Login (v1.0):  WTF?
Error 400 (v1.0):  Microsoft never fails to fail me!  Can't sign in
If you want more of the same, just open up the reviews on for OneNote on your iPhone in the app store — trust me, it gets ugly.
What's up with Microsoft?
I really don't get it – Microsoft is like the world's largest software company with massive hoards of cash on hand.
Yet they cannot release something that doesn't fail.
The Windows Phone 7 platform has only sold 1.5 million devices in 2 months.
The iPad has sold over 7 million devices in nearly the same time frame.
Microsoft has two main flagship products going for it – Windows OS and Office.
Neither of what are compatible to mobile devices in a way that people are getting excited about.
So what's Microsoft going to do when it wakes up one day soon and realizes that the future of software is mobile?
I'm confused, and greatly disappointed in Microsoft who has always been my favorite software company.