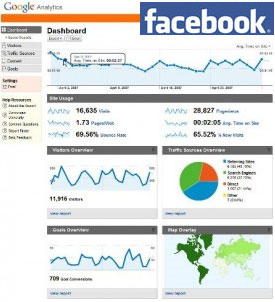 There has been a lot of talk lately about Facebook iFrame apps and Google Analytics.
I've been asked several times from people about the possibility of running Google Analytics for the new iFrame tabs.
And so I've been searching for a way since last week to make this happen – to make Google Analytics run within a custom iFrame tab on a Facebook Fan Page.
The benefits would be great because you'd be able to see what kind of traffic your new app was getting.
However, my searching came to end yesterday when it occurred to me why Google Analytics, or GetClicky, or any other analytics tracking code for that, cannot run on an iFrame tab.
The reason is because iFrame tabs are iFrame's.
Duh… really?
I realized yesterday that because these pages are an iFrame running within Facebook, the application that you build it not generating it's own unique page views, only the page views from within Facebook.
So in the traditional form of pasting your Google Analytics code into an iFrame app, it's not going work.
This doesn't mean, however, that traffic analysis is not possible – because it is.
But the analytics integration has to come from within the code and frame of Facebook, not Google Analytics.
The bottom line – is it possible to analyze traffic to your iFrame apps?
Yes.
Will it happen by pasting Google Analytics, or any other analytics code, into your iFrame tab?
No.
Stay tuned as I continue down this road of generating analytics for iFrame tabs.