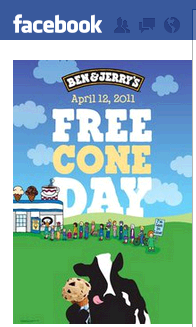 Join the fast growing crowd of 15,000 plus people (and growing fast) who are ready to line up outside of the a Ben & Jerry's icecream store to get their unlimited free cones of ice cream on April 12th.
That's right – the Ben & Jerry's Facebook event page says Get in line as many times as you'd like…
Ben & Jerry's made the event official on Facebook and set the date for April 12th, 2011 – that's a Tuesday.
The time is between 12:00pm and 8:00pm.
At all locations worldwide (wow…)
Here's what their Facebook event's page says:
Get in line as many times as you'd like to enjoy a Free Cone! The hours posted here are when most shops are open, but you should double check with your local shop to see if and when they plan on participating. It would be a major bummer to miss out!
Oh yeah, I'm definitely in on that!
I can imagine that the College Ave here in Athens will be swamped with people waiting for their Ben & Jerry's cone (or two, or three, or ten…).