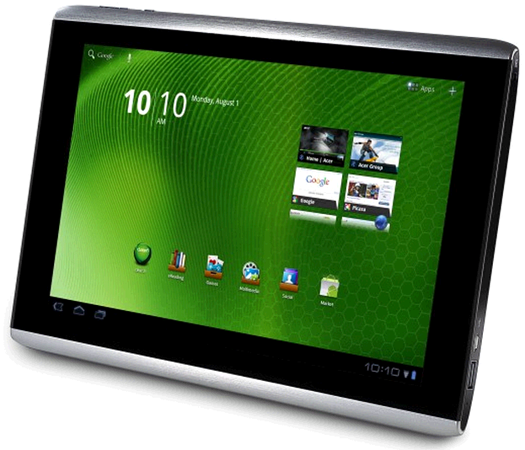 Acer, sometimes rumored to be in the back pocket of Google themselves, decided to announce on Friday a 10.1 Android tablet that is designed to cut directly into the iPad user base.
10.1 inches, Android powered, and $50 cheaper than the iPad, this Android tablet is sure to be a hit when it shows up on the shelves of Best Buy.'
That's the hope anyway…
The big news surrounding this Acer Android tablet, aside from the 10.1 inch screen, is that it will run Android 3.0 Honeycomb version – the Android OS designed specifically for tablets. Something all others, except for the Motorola Xoom, has failed to deliver.
But look at the Xoom for a moment.  It's been on the market for a solid two months and has only sold 100,000 units.  The iPad sells that many units in just a matter of hours.
So we'll see.
The Acer Android tablet at least gives us something somewhat exciting to write about for a day or so.