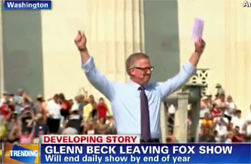 So is Glenn Beck actually leaving Fox News?
Or are these just rumors swarming around the web with no legitimate backing?
According to CNN, the news is that Glenn Beck is leaving the Glenn Beck show that airs on Fox, but he will be staying on at Fox News to help with the production of future shows.
Apparently Glenn Beck's talent is too valuable to let go completely, but perhaps Fox isn't happy with his current shows' numbers.
Here's CNN's coverage: