I'm always interested in digging through the top seller's list of apps – both iPhone & iPad and Android apps.  You always here rumors about what apps are currently the hottest selling and what ones are dying.  But a quick trip to either iTunes or Amazon's App Store, and then to the bestseller lists, you'll quickly get a taste of reality from the live data of what's selling.
Checking out the Amazon App Store today I noticed a sticking image that I didn't expect to see.  I actually saw that Angry Birds for Android was getting outsold by Cut the Rope for Android.
Here's a screenshot of the current list of top paid Android apps from Amazon's App Store: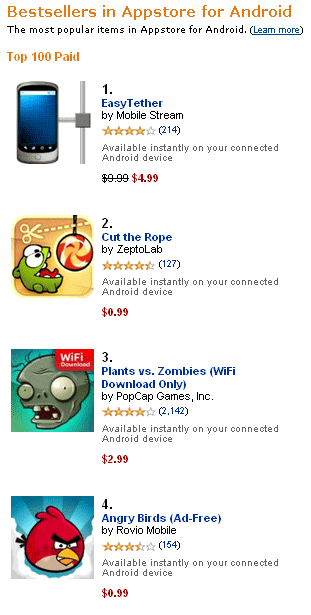 As you can see, Cut The Rope is actually outranking Angry Birds by a full two positions.  In fact, Cut The Rope is the #2 paid Android app in Amazon.
Now I couldn't help myself after seeing Cut The Rope outranking Angry Birds in Amazon, I had to go and checkout Apple's iTunes to see what the ranking was there.
And what I saw in iTunes was more in line with what I was expecting to see.  Angry Birds is actually the #1 selling paid app in iTunes right now with Cut The Rope coming in at #12.
Here's a screenshot of the paid apps rankings in iTunes: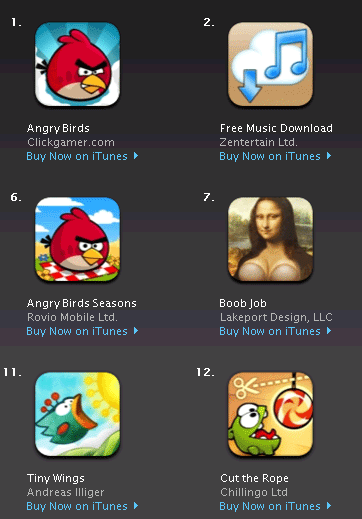 Android owners are different that iPhone owners apparently, especially when it comes to the games the purchase.
So what do you think? Do you like Cut The Rope more than Angry Birds?