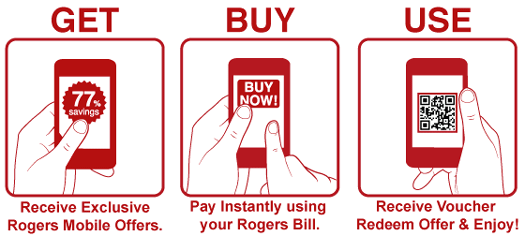 Groupon's competitors are becoming a dime a dozen these days.  And quite frankly, it's getting a bit exhaustive trying to keep up with them all.  The only one that has differentiated itself from Groupon in the daily deal marketplace is LivingSocial.com.  But a lot of that probably derives from the financial backing of Amazon.
But, there's a new competitor that just showed up that has a pretty cool offering for customers.  Rogers Offers will be using mobile phones as the primary platform for delivering daily deals.  Instead of customers having to sign up by email to receive the deals, with Rogers Offers you'll get deals via text message of image message right on your mobile phones.
And even more cool is the fact that you don't even have to purchase the deal through your mobile phone.  Simply accept the deal on your mobile phone and the charge will be added to your mobile phone bill at the end of each month.
It's like running a credit for daily deals.
Here's the summary of the new mobile daily deals from the Rogers Deal site:
Rather than subscribing to deals through email, Rogers Mobile Offers delivers each offer to your mobile phone via picture message or text message.
Even if you're on-the-go, you can immediately and conveniently browse Rogers Mobile Offers right on your phone and never miss the chance to grab a great offer!
You can even purchase the offer right on your mobile phone without having to register or enter credit card information. The total purchase price of the offer will simply be added to your monthly Rogers Wireless bill, allowing you to lock in savings before the offer is sold out.
Once you've purchased an offer, a voucher is sent directly to your phone for hassle-free redemption. Just show it to the merchant and enjoy your savings!
Rogers Mobile Offers is an entirely mobile experience. See, browse and purchase incredible offers in your city all with the convenience of your mobile phone.
via TheNextWeb