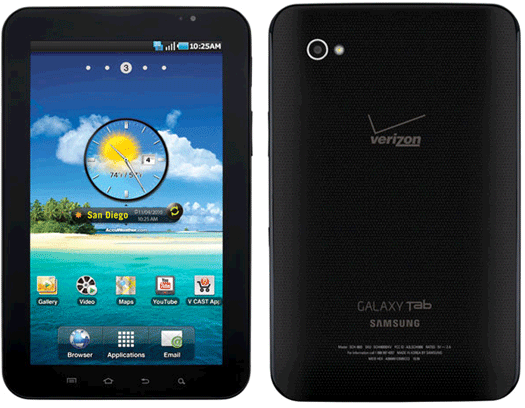 Verizon Wireless announced the 4G version of the Samsung Galaxy Tab will be available for purchase on July 28th (that's Friday).  The Verizon Galaxy Tab will be available on Verizon's 4G LTE network and will reportedly push download speeds between 5Mbps to 12Mbps and upload speeds of 2Mbps and 5 Mbps in areas where Verizon 4G is covered.
Here's a pricing breakdown of the Verizon 4G Samsung Galaxy Tab:
16 GB – $529.99
32 GB – $629.99
16 GB WiFi only – $499.99
Data packages & pricing:
2bGB – $30 per month
10 GB – $80 per month
Here's a link to current list of Verizon 4G LTE enabled cities.
My only question is, if you had this much money to spend on a tablet, why wouldn't you spend the money on an iPad instead?
Just wondering…
via USAToday