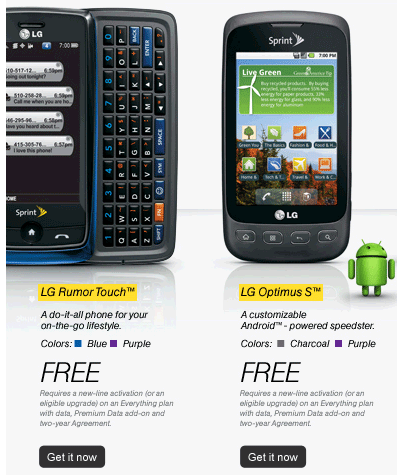 The age of free smartphones moves closer to a reality each and every day.  You may recall where I wrote about my experience with my nearly free Android smartphone.  Just a quick recap… I went to my local Sam's Club and about an hour later, I walked out with a new Samsung Captivate Android smartphone, through AT&T, and paid a total of $1.03 – that's $1.03 out the door with my new Android smartphone.
It's becoming more and more common to see deals like this, and the phone carriers (AT&T, Verizon, Sprint, etc…) make a killing because they'll always require a new contract period along with a data package – usually anywhere from $15 – $30 per month depending on who you go with and what package you chose.
Sprint is giving away two free Android Smartphones
Sprint has always been a mobile phone carrier who's willing to step up their game to compete with the big boys like AT&T and Verizon.
And today Sprint announced two free Android smartphones – the LG Rumor and the LG Optimus.
Both smartphones are completely free with a new contract and data package.
It's a pretty sweet deal to get free smartphones from these major mobile phone carriers.  Ultimately, if you are in the market for a smartphone anyway, then the 2 year contract and data package are a given – so you mine as well find the places where you can get a free, or at least very inexpensive, smartphone.
We have yet to see the free iPhone yet!  But, AT&T is getting somewhat closer to that being a reality by offering dramatically reduced pricing on existing, or refurbished, iPhone inventory.  Such as the $9 refurbished iPhone 3GS, or even the $.01 refurbished iPhone 3, that AT&T is selling.