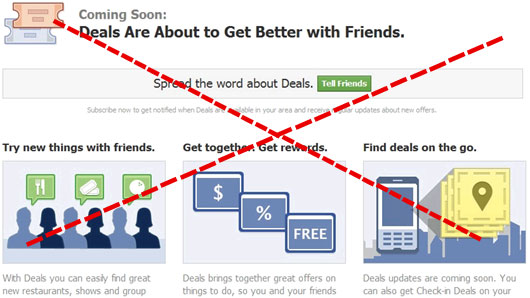 It's been a very short four months, but Facebook just decided to kill it's daily deals program which offered deals to Facebook users certain metro areas throughout the United States.
This was often considered the one daily deal site that could actually compete with the likes of Groupon, since Facebook is home to a whopping 750 million users.  However, the social networking site decided it was time to focus on bigger and better things.
According to the AP, Facebook released a statement Friday saying they decided to the Facebook Daily Deals program after four months of testing.  The Facebook deals were only being tested in Atlanta, Austin, Dallas, San Diego, and San Francisco.
Facebook says it remains committed to serving local businesses through ads, pages and other products. And it will continue to offer "check-in deals" which allow patrons to get unique deals when they check into the establishment via Facebook Places.  Checking in through Facebook also lets that user's friends know where they are and directly promotes that place of business to all of their friends.
My only question is, could this be a sign that the daily deals marketplace is winding down and losing it's steam?
via Yahoo