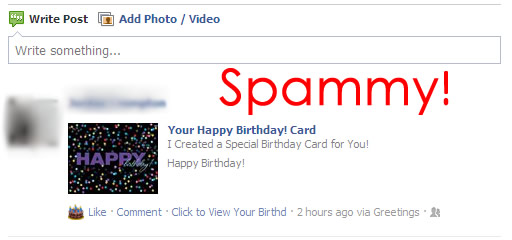 After you thought Facebook was rid of spammy apps, like viruses auto-posting to your
Facebook account, it doesn't seem like it's come to an end yet.  For the average non-tech suave Facebook user, it's confusing when an app auto posts a friends wall since it seems like a virus.  There are viruses and there are apps that push the boundaries of spam and privacy.  The Facebook Birthday Card App by "Greetings" is very close to that boundary.  This application, once you approve it, will auto-post birthday greetings to your friends on Facebook without you knowing.  Not only will it post cards, but it posts them a day before so it's the first birthday post on their wall.  A lot of users of this app fall for the trap and think it's nice that it auto posted a greeting on a friends wall, but I think it's just downright creepy.  (By the way, if you haven't learned how to de-creepify your Facebook Timeline, you might want to check out the article I wrote.)
I also noticed, after doing a Google search, it seems like it's a common problem people are having with this app:
How to disable birthday card application on Facebook
How can I get rid of this weird greeting card app on Facebook?
How do I stop my Facebook sending birthday cards?
HELP! Keep sending random greeting cards to ALL my Facebook contacts. How do I turn this off please?
How to Remove the Greeting Card Virus
Why do I think the "Greetings App" is spammy and borderline virus-like you ask?
Just look at what it will post on someones wall below once you give it permission.  Most likely people giving the app permission don't even notice they are because they want to actually see the greeting card.  I haven't even looked at the greeting card, but of course it's a load of B.S. to get traffic to this greeting app.  So you click on the card, give them information and it then has the permission and power to auto-post birthday cards on friends Facebook walls without you knowing!
Here is the permission acceptance that many click through quick not knowing what they are accepting: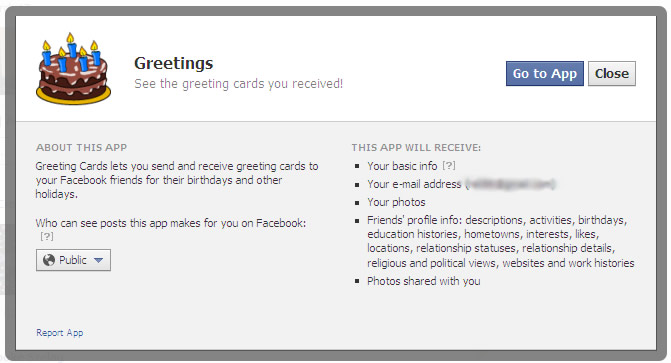 Why of course I will give you permission to post on my friends walls and access my data anytime (this is sarcasm).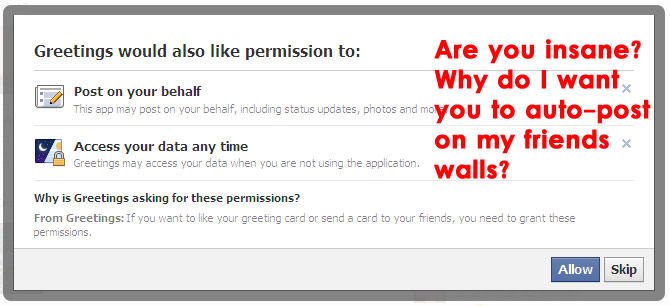 How to remove this Birthday, Facebook application or any other annoying app!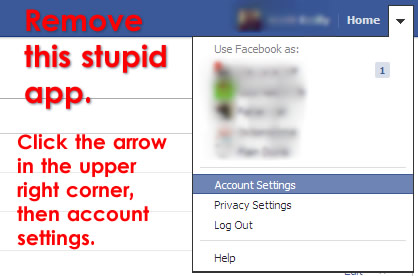 Now click on "Apps" from the left hand menu, then click the "X" to remove any apps you do not want.  It will confirm that you want to remove it, just click "remove".

There, that wasn't hard was it?  It feels good to remove those useless apps so you don't look like a creep posting stuff on walls that you don't even know about!  Share and enjoy!