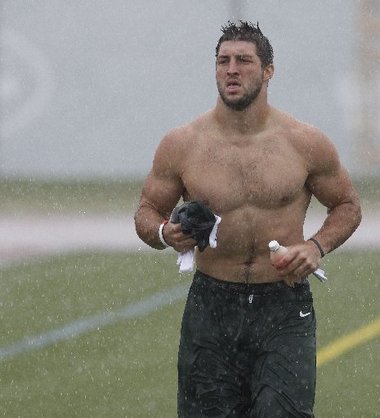 Tim Tebow's rain picture stirred a lot of joking around from team members and fans.  Tebow said he just took off his shirt because it was heavy and then jogged across the field after practice.  Little did he know that the pictures (99 in one minute) would stir such a media frenzy.  Not only is the media laughing about it but his team members have also been busting on him for his shirtless pictures.
Tim Tebow was very shocked at the reaction to a simple picture:
I mean, I can't tell you how many times probably in Florida or Denver after practice I would do sprints back and forth with that and jog off the field and never think about it again," Tebow said today. "And it would never get reported and now it does."

Tebow said what was running through his mind at the moment was that his shirt felt like "20 pounds" after practicing in the rain and signing autographs for nearly half an hour.

"Didn't really think y'all would would be filming it and taking pictures," he said.