As if the current gun-related violence wasn't enough, on Saturday a California man fired off approximately 50 bullets in the parking lot of a populated mall. Many of the mall's stores promptly locked down, keeping holiday shoppers safe.
Thankfully, not a single person was injured, though many panicked and ran for their lives, since the firing came only one day after the massacre in Connecticut and a few days after the mall shooting in Oregon.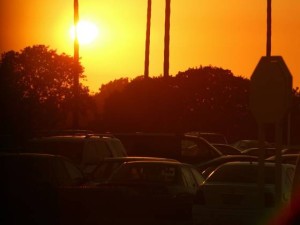 The suspect is a 42-year-old man named Marcos Gurrola, who was arrested by bicycle police officers patrolling the open-air California mall. Apparently Gurrola had been firing into the air and at the ground, as if purposefully trying to scare people, not injure them.
Both the mall and parking lot was crowded with holiday shoppers, who ran for cover, ducked behind cars, and barricaded themselves in local stores.
"It's a miracle nobody got injured," said Sven Maric, one of the many individuals within the area when the shooting happened. "The bullets had to land somewhere, and he shot so many."
When the California man shot 50 bullets in the parking lot, employees at a local Apple store locked the front entrance, keeping as many as 100 people protected. The store remained locked for about 30 minutes before police announced the mall was safe enough to open doors again.
Police spokeswoman Cathy Lowe says the California man who fired 50 bullets was arrested for investigation of assault with a deadly weapon.
Local California authorities are still investigating the man's motives for firing off so many rounds in a public place. Attention? Scare tactics? Mental illness? Right now, anyone's guess could be the answer.
This event is just another example of guns being used by individuals not capable of properly handling them.