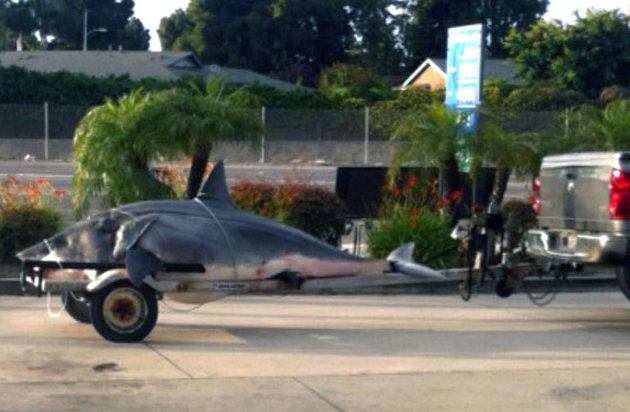 Jason Johnston caught a 1,323 lb. mako shark off of Huntington Beach in Southern California this Monday, making it the biggest capture of a mako shark since a 1,221-lb. mako was caught in Chatham, Massachusetts in 2001. Johnston caught the shark after a reported two and a half hour battle with the gargantuan animal. Southern California is known to be a common nursing ground for mako sharks but usually the sharks caught in the area are smaller in size. The International Game Fish Association has only 23 records on hand for sharks 1,300 lbs. or larger. It is very rare to catch any fish that weighs in over 1,000 lbs.
The shark is on ice and will eventually go to the National Oceanic and Atmospheric Association so that they can conduct research. However, many are disappointed and dismayed that the shark was not released back into the ocean but instead kept and killed as a sort of trophy. Johnston was fishing with two pals about fifteen miles off the shore. The shortfin shark they have caught may be the largest shark catch ever made for a mako. The largest catch on a shark currently stands at a 2,664-lb. Great White shark that was caught off the Australian coast back in 1959.
The mako shark stands at eleven feet in length and eight feet wide. The three were on a chartered fishing boat called the Breakaway. Despite criticism of the catch, passengers are allowed by law to catch two mako a day per person. The skipper of Breakaway, Matt Porter, made clear that the boat had been out for three days with 18 passengers, and only kept one mako shark. The catch was filmed for a reality show on Outdoor Channel called "Jim Shockey's The Professionals". Critics are using the catch to voice concern for overfishing of sharks, currently a major issue.