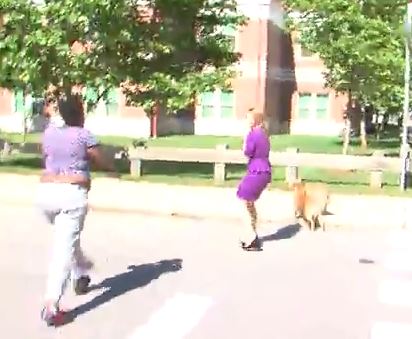 It is clear that when people are upset, they will do anything they can to vent their frustrations without thinking of the consequences. They become impulsive and stop thinking.
One Rhode Island woman did just that and now she is charged with assault.
Assault weapons of choice? A rock, a baseball bat, and two attack dogs.
The incident started when a WLNE reporter stood outside the woman's house in an attempt to interview her about a shooting that had occurred at a Kindergartener's graduation party. Earlier in the day, the suspect — a young man –had turned himself in to police, prompting the news crew to show up at the woman's house. The woman is Melissa Lawrence, the gun-shot victim's mother.
Ms. Lawrence initially greeted the news crew with a rock, which barely missed the reporter's head. Then, she went into the house saying, "Hold on," only to return with a baseball bat. When she decided she wasn't going to be the one chasing the crew, even with a bat in hand, she yelled for her two dogs and instructed them to attack.
What happens next is the shocker. The dogs run around the woman's fence and proceed to bite at and run after the reporter, chasing her down the street. In a panic, the reporter drops her microphone, and starts to run, finally seeking refuge in a backyard three houses away.
It is a guarantee that at some point, news reporters will get yelled at. They likely hear some of the worst language human ears have ever been exposed to, on a weekly basis, if not daily. Many people get annoyed with reporters, who often get a bad rap. Nobody, however, ever anticipated that attack dogs would be sent after them.
We are living an age where people do not use their words to express themselves and solve problems anymore. As the saying goes, "Actions speak louder than words."