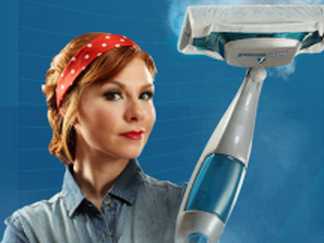 As usual, when a marketing strategy fails, it is either because of the copyright issues or other emotionally charged reasons. Recently, Swiffer stated that it will take down its ads that involve a woman who is eerily similar to a Rosie The Riveter iconic figure. Not everyone is familiar with her but this woman depicted any woman who did a man's job especially in the period of World War II. However, this icon was also used negatively in ads wherein women have become synonymous with household chores. It had been the cause for outrage during the feminist era, thus culminating one of the reasons for women's rights to take place.
Swiffer quickly responded to the concerned feminist groups, as well as other individuals, with regards to their controversial Rosie The Riveter inspired ads. Swiffer claimed that they were not aware of the drawback of the said image, but to set things right, they are willing to comply with the demands of those who were offended.
In a world full of independence and individuality, there will always be a group of people who will get offended by an advertisement.  It seems as though you can offend any group who is this focused on being politically correct and fair to all.  Isn't it time to draw the line?  I don't see why the ad was so bad.  Maybe I'm missing something…
What do you think?  Did Swiffer overstep the line or is this PC (politically correct) stuff going overboard?