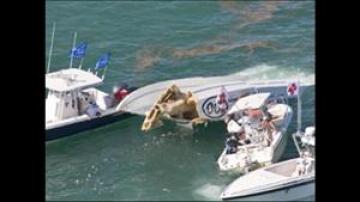 The Florida boat crash that happened on Sunday at 6:30 pm involved a 36-foot Carrera and a 28-foot vessel. The latter, carrying two people, struck the Carrera powerboat, which had 16 passengers. The violent collision threw the passengers into the water, resulting in the hospitalization of nine people.
The spokesman for the Florida Fish and Wildlife Conservation Commission, Jorge Pino, was there to comment on the incident.
Officials said that one of the passengers seemed to have had a concussion and a leg injury causing the Fire Rescue helicopter belonging to the Miami-Dade to hoist him from the water and take him to the hospital. The impact caused the 28-foot vessel to capsize.
The boat crash occurred near Sands Cut, which is a popular sandbar area that is close to Elliott Key in the Biscayne National Park. The cause of the collision is still unknown, though drunken driving was ruled out after a field sobriety test conducted by the authorities indicated no signs of alcohol on either of the two captains.
Officials at the scene stated that the injuries incurred were moderate, including grazes and pulled muscles. As such, it was not necessary to conduct a blood alcohol test.
This does not, however, imply that the authorities will not impose a charge if the ongoing investigations find that the Florida waterways' boating rules were violated by either captain. Authorities at the scene claimed that the captains were obligated to assist with the investigations in any way that they could.
Officials also stated that the injured passengers were fortunate that the collision was not fatal.
Jorge Pino expressed his concern with the increasing water activities as it gets warmer, with thousands of boaters enjoying themselves on the waterways during the weekends.
The injured were hospitalized at the Kendall Regional Medical Center.
The 28-foot powerboat was towed to the Black Point Marina, which is in Cutler Bay.