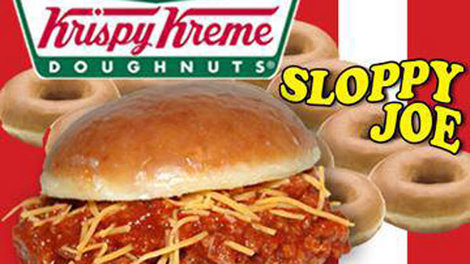 You may have thought that a new high calorie fast food combination could not be invented. Everything has been tested, tried and eaten! Just when you thought you may be safe from calories, here comes the new Krispy Kreme Sloppy Joe! The world has once again been introduced to a new combination, this one, a Donut and Sloppy Joe. Sloppy Joes have been around so long they have become a tradition. The ground beef, onion and sauce combination has been tried in every form and style that one can conceive of, but never, ever in a Krispy Kreme Donut.
Who would have thought you could blow so many people's minds with the sophisticated Donut and Sloppy Joe combination? Well, in this case it happens to be an extremely enterprising chef from the San Diego County Fair. The Sloppy Joe bun is gone and has been replaced by the Krispy Kreme Donut. This is melt in your mouth delicious!
Someone was heard to say that if they must die, then this would be the way to go, declaring the sandwich to be a heart attack in waiting. Indulging in deep fried fair food has always been pure gluttony, but this new extreme sandwich is making people crazy. Given the most outrageous names like Frankenstein's breakfast or Artery closing lunch, nothing seems to scare off the crowds. The Krispy Kreme Sloppy Joe is set to take over meal times, breakfast, lunch and dinner!