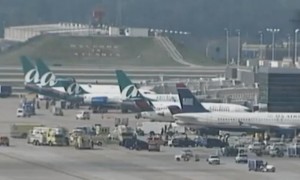 Atlanta – On Tuesday morning at 8.40, when everything seemed normal at Atlanta's Hartsfield-Jackson International Airport, an explosion took place. The explosion was small and no casualties were reported.
All the passengers were immediately evacuated as a preventive measure and transferred to a different concourse via airport bus. Normal functioning was resumed within an hour when power was restored. The passengers were walked back through the terminal. No need to cancel any flights was felt, yet about 35 flights got delayed by 20 to 30 minutes.
In a separate incident in downtown Atlanta on Tuesday, a bomb threat at a building near the Georgia State Capitol was declared. As a result two state buildings were evacuated including the Supreme Court of Georgia. However, the buildings have now been declared safe by the Department of Public Safety.
Authorities say that the airport explosion came from failure in the electrical circuitry. Although near gate D-21 in a maintenance area, it was far enough from the passengers. Atlanta police is investigating what exactly caused the explosion. FBI Special Agent Stephen Emmett said that the bureau will not be involved since the incident did not appear terrorist-related.
An ongoing project for modernization of concourse D is underway to renovate and expand the area. The joint venture of Holder/Moody/Bryson holds the contract amounting to near $37 million. The project is set for completion by 2014. It seems likely that the faulty circuit may have been the result of an incomplete job by them.
Harsfield-Jackson International Airport has been one of the busiest airports of the world, both by passenger traffic and by number of landings and take-offs. Had anything caught fire passenger safety would be in jeopardy. To minimize mishaps, it is not only the duty of staff and authorities to provide safety, but also people's personal responsibility to stay alert at all times at any airport.